Purebred German Shepherd Puppies For Sale
We're to help make your puppy experience comfortable

Hayes Haus is a nationally-recognized breeder of family-first working line German Shepherd puppies.

Because we strictly favor temperament rather than appearance, the Hayes Haus breeding standard guarantees consistently excellent German Shepherd family dogs for Massachusetts, Connecticut, New Hampshire, and beyond! Have you heard about our "Quickstart" trained puppy program?
See available puppies list & enter for updates
Use this interactive form to get alerts when we have puppies available that match your preferences. Or if you want to see our currently available list, just select that option.
This page was last updated on October 29th, 2018
Enter Below To For Personalized Puppy Announcements
CarolHayes Haus Puppy Owner
It is great to have found a dog with solid nerves that doesn't mind living in a house with three wild and crazy kids! We truly are enjoying her.

Thanks again for all of your help over the last couple of years. ...we finally found the right dog for our family.
Black Coat Puppies
Black seems like a common German Shepherd color, but it's not as popular as you may think! Solid black German Shepherds can easily be confused with actually often confused with bicolor or black and tan dogs from a distance, which contributes to the belief that black is most common.

In fact, amongst the four official coat colors of the GSDs (sable, bicolor, black and tan, and straight black), pure black puppies are the least common you'll find! This is true because the black color gene is the least dominant (recessive) of the four color genes.

If you want to buy an all black German Shepherd puppy from Hayes Haus, you may have to wait a bit. We rarely have solid black German Shepherd puppies for sale.
Sable Coat Puppies
Visit our Sable German Shepherd puppies for sale page to learn more about German Shepherd colors and to reserve your sable puppy!

The Sable coat color in German Shepherds is the most dominant gene. More dominant than GSDs of other colors because sable will show even if there is only one sable allele. If you breed a Sable male dog or Sable female dog, with 2 sable genes the result will be a sable German Shepherd puppy 100% of the time!

Many of the pups that become available at Hayes Haus are sable in color and we often have a mix of light sable and dark sable puppies. Click here to request info about current sable German Shepherd puppies for sale at Hayes Haus.
AKC Certified German Shepherd Puppies
Below are our currently available German Shepherd puppies. Most litters we have are sable or bicolor puppies, but from time to time we also offer all black as well as black and tan puppies.

Joining our personalized litter updates list is highly recommended because it will give you the best puppy searching experience possible. You'll receive alerts when a new litter is born if the litter has puppies matching the preferences you select. You're also able to select the time-frame for when you prefer to receive updates. This way, no spam, just puppies!
Connecticut GSD Puppies
Our kennel is located around 100 miles from the Connecticut line. So if you're looking to buy a German Shepherd puppy in Connecticut and are having trouble finding CT based breeder, we're only a short drive away. We primarily host visits on weekends to make it easy for you to drive up from Connecticut with your family to visit the puppies and meet our team.
New Hampshire GSD Puppies
Are you looking for German Shepherd puppies in New Hampshire? West Newbury is just a few minutes South of the New Hampshire line. In fact, many of our puppy owners are from towns along the NH border. So if you see a beautiful German Shepherd walking around Portsmouth, NH make sure you ask if they're a Hayes Haus dog!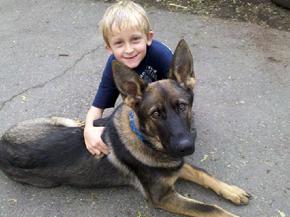 Charlotte Happy Hayes Haus Puppy Mom
Axle went for a check up with the vet today, very healthy. Here is Axle, he is amazing... he is similar to "Lassie" with my son Ben...

They are inseparable!
German Shepherd Puppy Health Guarantee

When you take your puppy home, it will be:
Up to date on all required shots
Free of worms and parasites
Our future health guarantee is unmatched in the dog breeding industry:
Protected against genetic health issues that affect working ability for one full year
Hips guaranteed against severe hip dysplasia for two full years
Hips guaranteed against severe hip dysplasia for three full years if fed a raw diet of Life's Abundance food
What's Included With Your GSD Puppy?
One free months of health insurance
Lifetime support from Hayes Haus
Help choosing reputable trainers and dog services in your area
AKC Registration Paperwork
AKC registration assistance
Microchip
Health check-up certificate from a licensed veterinarian (heart, lungs, eyes)
Hayes Haus Health Guarantee (listed above)
25% discount for Hayes Haus training programs (includes board and train)
How our systematic breeding strategies positively influence the temperament of your future puppy
When it comes to choosing breeding males and breeding females many factors come into play, which can present issues if a breeder does not have a set of criteria they use to select sires and dams.
Here at Hayes Haus we have developed a breeding methodology that makes identifying German Shepherd dogs fit for breeding a systematic process. And though the process is complex, it's all based on a simple acronym; T.H.I.S (Temperament, Health, Intelligence and Structure).
When considering a dog for breeding at Hayes Haus, the dog's health and structure are evaluated using tests, x-rays and other diagnostic tools such as DNA analysis and blood work. To us, these evaluations are cut and dry. If a dog isn't the proper size or has health issues that could potentially affect workability of the puppies, they are ruled out. Furthermore, if the dog we're looking at for potential breeding has any structural problems (however minor) that will limit working or breeding potential, we determine the dog unfit for breeding.

These 'cut and dry' tests seem simple, but are based on in-depth research and experience with the German Shepherd breed as a whole and should not be taken lightly. To ensure your German Shepherd puppy is as healthy as possible throughout their life, you need to make sure you choose a breeder that takes these factors into consideration.

On the other hand, temperament and intelligence require a bit of a different evaluation when it comes to choosing breeding pairs for out litters. Tests include, but are not limited to, an in-depth pedigree assessment, and consideration of the dog's behavioral history and upbringing.
Analyzing a dog's behavioral history is by far the most difficult assessment to ensure accuracy on but with that said, it's quite possible the most important...

Doing so includes how the dog interacts in everyday social scenarios as well as how he or she has been kept (living conditions). If you could choose between having your future puppy's mother and father having lived in a cage their whole life, or inside with a loving family, which would you go with?

The answer is simple.

Two other factors we consider are the extent of the dogs training and their enthusiasm while working with a handler.
If we mistakenly chose a dog with sub-par temperament for breeding, the decision could (and most likely would) negatively affect the temperament and personality of each puppy in the litter.

While we recognize that perfection is impossible, we do our absolute best to protect against potential mistakes. And it's important that whichever breeder you choose does so as well.
Choosing dogs for breeding is NOT a task Hayes Haus takes lightly. It is arguably the most important piece of the puppy puzzle when creating new litters that will have a positive place in this world.

Healthy and temperamentally sound dogs are paramount to producing helpful dogs in the future.
Pricing for vom Hayes Haus German Shepherd Puppies is currently $4,000, but may increase later in the year as we add more post-purchase services for puppy buyers. To see our full list of plans and pricing, visit the FAQ page, located at the bottom of this page